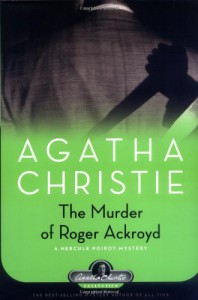 In the village of King's Abbot, a widow's sudden suicide sparks rumors that she murdered her first husband, was being blackmailed, and was carrying on a secret affair with the wealthy Roger Ackroyd. The following evening, Ackroyd is murdered in his locked study--but not before receiving a letter identifying the widow's blackmailer. King's Abbot is crawling with suspects, including a nervous butler, Ackroyd's wayward stepson, and his sister-in-law, Mrs. Cecil Ackroyd, who has taken up residence in the victim's home. It's now up to the famous detective Hercule Poirot, who has retired to King's Abbot to garden, to solve the case of who killed Roger Ackroyd--a task in which he is aided by the village doctor and narrator, James Sheppard, and by Sheppard's ingenious sister, Caroline.
M. Poirot, what were you thinking? Retiring to a small village to grow vegetable marrows? I too would hurl them in fits of regret! As if marrows could suitably engage those little grey cells!

Excellent depiction of the competitive sport of gossip. Small communities everywhere suffer from it. That is one of the reasons that I came to live in a city—I can actually keep my private life relatively private!

Dame Agatha really did set the patterns for current mystery literature, didn't she? Very, very enjoyable and as usual, I had no idea who the perpetrator was until M. Poirot did the big reveal.